The Effects of Blue Light On Your Eyes
There are conflicting reports about the effects of blue light on your eyes. Some studies claim potential damage to the retina by overexposure, while still others insist there's no effect at all. Since so many of us spend a great deal of time exposed to blue light screens in the workplace, it's become a significant issue for workplace eye health.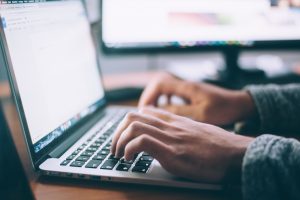 Blue Light & Potential Hazards
It's important to note that the largest source of blue light comes from our largest light source: the sun! We're exposed to blue light on a daily basis. We know that light is composed of an entire spectrum of color, as evidenced by the rainbow. The red light being slower and dimmer while the blue light is brighter and moves more quickly. Our technological screens, like TVs, computers, smartphones, and tablets emit a much smaller source of blue light than the sun. So why is there so much concern surrounding blue light and our vision?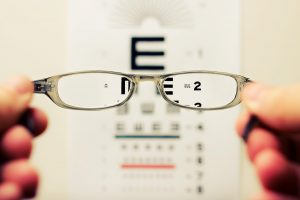 We spend an exorbitant amount of time with our eyes glued to some type of blue light screen. In fact, over the last thirty years, nearsightedness has seen a dramatic increase of over sixty percent! This could be due to the correlating time frame of increased computer usage. The ultimate concern is that so much time staring at blue light may have some very negative effects on our eyes. Some symptoms reported by those with excessive screen use include:
Dry eyes
headache
blurry vision
eye twitching
sore, tired eyes
The popularity of blue light glasses has led many to believe they are experiencing relief from these symptoms. While still, other professionals say it's only a placebo effect. They hold to the fact that there is no real evidence of any negative affect from blue light, but that symptoms are merely from the way technology is used.
Tips for reducing digital eye strain symptoms:
If you find yourself suffering from any of the previously mentioned symptoms, try some of the following solutions.
Follow the 20-20-20 rule, giving your eyes a break every 20 minutes for a minimum of 20 seconds to scan the room 20 feet away. This gives your eyes a chance to focus on objects further away from the screen and gives relief from the light of the screen.
Sit at arm's length (25 inches) from your screen.
Blink often. We tend to blink less when staring at a computer screen which can make your eyes dry or tired.
Adjust the settings on your screen. Adjusting the contrast levels of your screen can make staring at your screen easier on your eyes.
Purchase a matte filter to place over your screens to reduce glare.
Simply reduce the amount of time spent looking at a screen.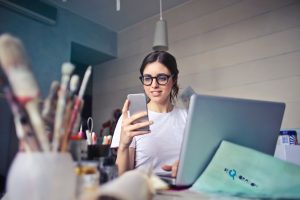 Further study is needed to determine any concrete evidence of blue light leading to retinal damage. But if blue light glasses and other aids seem to provide some relief to your symptoms, there is no harm in using them. They have only yet to be proven medically necessary.
To ensure good eye health, get your eyes checked regularly by an optometrist or ophthalmologist. After age 65 it is recommended that your eyes are examined every 1-2 years in order to catch any early signs of disease. Visit our Wellness Calendar for more information and resources regarding eye health.
Other Eye Health Wellness Articles: