Post Your Health Fair
Join Now
Post and Host your Health Fair  – It's FREE

The IAB online health fair toolkit has everything you need to design, promote and execute an event tailored to your employees' needs. Each employer group is aligned with a live qualified Corporate Wellness Manager that assists in planning and executing all aspects of your health fair, so you don't have to stress over the details.
Your online wellness portal connects you with local wellness providers eager to establish a personal relationship with your group. Simply post your event on the IAB network and sit back as vendors begin to register to participate. Your contact information is kept confidential while you sort through the providers eager to display and educate at your event.
What's included?
NEW Internal Emailing Console – Communicate privately with vendors without sharing your personal email.
User Dashboard – Keeps all health fair planning and information in one place year after year.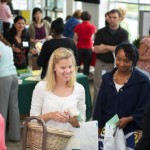 Vendor Selections – Invite your vendors or select from thousands of qualified wellness providers to exhibit at your event.
Vendor Invitations – Vendor invitations are automatically sent to your selected providers through IAB so your information is kept private and prevents future unsolicited contact.
Approving Vendors – Approve or decline vendors as they register to participate in your health fair. Each vendor's registration provides registration details and a link to their profile. Vendor profiles give you full details of what the vendor offers at a health fair, what they will need for their display, and their corporate offerings/discounts.
Registered Vendors – All RSVPs are kept in one place where you can view and edit at any time.
Event Reminders and Instructions – Automatically sends registered providers a friendly reminder three days before your event. Reminder includes event location, date, time, driving, map and parking instructions.
Vendor Ratings – Vendors will be on their best conduct knowing you have the ability to rate their attendance at your event.
Downloadable Templates
All approved vendor's details are tied together in all your promotional materials. All materials are custom to your event, listing the attending vendors, screenings, education, and giveaways. Everything you need is just a click of a button away.
Download your free guide to "Planning a Successful Health fair"
 *Virtual health fairs coming soon*