Hosting a Virtual Health Fair
Join Now
You can now host your event virtually allowing employees to safely visit vendors!! No additional software or device permissions are required.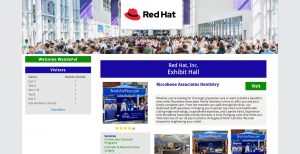 How it Works
It is simple to post your event on the IAB site. You can use your own vendors or allow IAB to resource vendors for you. All the tools you will need from your interactive event management dashboard to your virtual event exhibit hall are provided within the platform.
Events can be posted publicly allowing vendors to register to participate in your event, giving you a selection of vendors to choose from, or you may select to make your event private and use your own vendors.
Posting Your Event
Once you have established a profile on the site you will have many wellness tools to choose from. Select the link to post an event, add your event title, and select Virtual Event. From there, it is a simple step-by-step process in filling in the information pertaining to your needs and the participating vendors your event admins. It takes less than 5 minutes to post your event!! Events can be posted publically or privately depending on your desire to attract new vendors.
Event Tools
Your dashboard allows you to select the types of education you would like in your event, add event administrators, event invitations, and an easy vendor review and selection process.
Event Day
A predesigned email invitation for your employees is provided in your admin tools. Employees will go to the link listed on their invitation to check-in to their event. As an admin, you will see as employees check-in and what booths they have visited. You may download a full report of your team's health fair visits upon event completion. Click here for a sample event.
Booth Interaction
Vendors offer a video broadcast of their services and a live chat feature.  The vendor is alerted when the employee enters and may chat with them as they would if they were at an onsite event. Employees can ask the vendors questions via chat, download brochures and coupons, schedule an appointment and request follow-up from the vendor.
The event stays active for 60 days giving employees an opportunity to visit after event completion. Those that missed the live event, want to revisit or share information with their family may do so at their leisure. 
Employee Interaction
Event admins can see as employees check into their event and what booths they have visited. A full report on your visitors and the booths they visited can be downloaded at the event conclusion.
Cost
You can pay a fee of $250.00 to post your event and allow all vendors to participate for free or PAY NOTHING and we will charge the vendors a $25-$50 booth fee based on the number of employees. Your Benefits Broker and Insurance Providers always participate for free.
What Employees are Saying
"Wow that was fantastic! Great turnout and feedback from clients. The positive survey answers re: logistics speak to the ease of virtual booth setup, great pre and post event communication with IAB staff. Thanks!
"I realize we're all zoomed out these days but I thought being able to virtually "stop by" multiple vendor tables (more than we could have had on-site) was an easy and low commitment way to get info."
"This was a really neat event, and I appreciate getting to participate in it all the way from MCNC Greensboro campus!"
"they were all really interesting and informative!"
'What Employers are Saying
"We have truly enjoyed this platform. Lot's of our employees have to visit customer sites during the day so giving them the option to be able to visit the booths at a later time has been fantastic. I've also heard from several employees how "easy" it was to go from booth to booth. No hassle. No hold up. They can stay as long or as little as they want and if they don't really want to talk to anyone they don't have to."