Hosting a Virtual Health Fair
Join Now
Coming Soon!
You may choose to host a virtual health fair that enables employees to visit each vendor's booth with both real-time view and chat capabilities. Virtual booths can also be held in conjunction with your on-site event if space is limited or to allow remote employees to attend. No permissions or software required.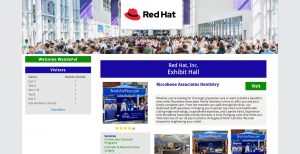 How it works
When posting your event, you can host your event on-site, virtually, or both. As vendors register to participate in your event, they will indicate how they will be participating. You have full control over who and how they participate.
Event Day
A predesigned email invitation for your employees is provided in your admin tools. Employees will go to the link listed on their invitation to check-in to their event. As an admin, you will see as employees check-in and what booths they have visited. You may download a full report of your team's health fair visits upon event completion.
Booth Interaction
Vendors are video broadcasting live as the employees enter the room. The vendor is alerted when the employee enters and interacts with them as they would if they were at their booth. Employees can ask the vendors questions via chat, download brochures and coupons, and request follow-up from the vendor.