Setting up Your Virtual Booth
Join Now
Setting up your virtual booth is super easy.
Provide employees with a video demonstration, brochures, coupons, and a link to schedule an appointment or request follow-up right from your virtual booth!
Virtual events remain open for employees to visit for 60 days!
First, make sure your profile is completely up to date
Before you begin, you will need to either have a pre-recorded video on YouTube or will need to create a presentation and upload it to YouTube. A YouTube Link will be needed to set up your booth.
Go to the Edit View of your profile.
Click on the Event Registrations tab.
Under the Approved Events, you will see the event listed. Click Setup Virtual Booth.
To set up your virtual booth, add details specific to the event, then click Save and Go To Virtual Booth. Your booth includes a Request Follow-up button for visitors to connect directly with you. You may add additional useful items for your visitors within your booth set-up. A YouTube link is the only requirement in this step. Click here to learn how to upload a pre-recorded video to YouTube and apply to your virtual booth
Add your YouTube Pre-recorded video link (3-5 minute video) (Sample)
Online Scheduling Link (if applicable)
Discount Coupon (employees can download)
Brochures (employees can download)
Photo of your Raffle Prize (Can be seen on your profile)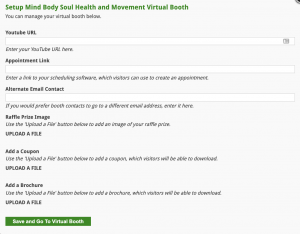 You are now in your Virtual Booth as it will appear on the event day. You are now ready for the event. If you do not see the chatbox, you are behind a VPN or your browser setting is blocking our site. Please allow cometondemand.net and iabhp.com to your whitelist.
EVENT DAY
Go to the Upcoming Events tab within the Edit View of your profile. Now that your booth is set up, you will see a link to Edit Your Booth or Go to Booth. Click Go To Virtual Booth.
You will see the visitor's name as they enter the room so you may welcome them. Visitors can chat with you to ask any questions they may have.
When the event is completed, you can close your window. The Exhibit Hall will remain open to the employees to revisit 60 days after the event. You can review the names of your visitors within your chat window by clicking the View all Vistors link.