Promoting Bike Month in the Workplace
There's a growing movement that increases health, builds community and decreases pollution – bicycling! Each May since 1956, we observe Bike month to encourage this movement to grow and spread health and wellness. In 2020, Bike to Work Week will be May 11–17, with Bike to Work Day on Friday, May 15. This is a very simple health activity that you can encourage in your workplace in a variety of ways. Healthier and more active employees are happier, more productive employees. Did you know that 40 percent of all commutes are two miles or less? That makes them the perfect length for a bike ride!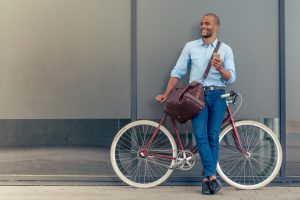 Bike Events
Planning a Bike Month Event is a great way to promote National Bike Month! The League of American Bicyclists has lots of resources for event ideas and promotional materials.  Here are just a few ideas!
CAR VS. BUS VS. BIKE COMMUTER RACE –
Organize a race between cyclists and other commuters. Everyone leaves at the same time, with the same destination, but take very different routes. Surprisingly, cyclists usually win! It's a great way to show one of the many benefits of taking a bicycle to work. Many first-time bike commuters become regular cyclists afterward.
BREAKFAST OR ENERGIZER STATIONS –
Set up stations in various neighborhoods where bicycle commuters can stop by for breakfast! You can even ask local restaurants to donate food for the event. Providing reflective bands or blinking lights and additional bike "swag" is another fun way to promote the event.
NATIONAL BIKE CHALLENGE –
Bike Week and Bike to work day are great, but signing up for the National Bike Challenge keeps it going all month. Encourage your employees to register online at www.nationalbikechallenge.org where they can track their miles, build community, and even win prizes! It's a fun way to be competitive and incentivize bike riding.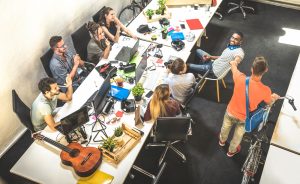 Benefits of Bicycling
HEALTH –
80% of all cyclists say their health has improved since beginning to bicycle. With obesity on the rise, bicycling to work is a great way to get regular exercise into a busy schedule. Those who bicycle are typically leaner, fitter, have lower blood pressure and healthier cholesterol levels.
Stress levels also decrease with bicycle commutes. It can be very freeing and relaxing to go on a bike ride. Typically, cyclists are also able to avoid traffic congestion which can be a huge cause for stress for regular car commuters.
SAVE MONEY –
According to an analysis by the League of American Bicyclists, Americans saved more than $4.6 billion by bicycling instead of driving in 2012 alone. Bike commuters avoid parking ticket costs, gasoline prices, and various other car maintenance expenses. The cost of a year's bike maintenance is a mere $300-400 as compared to an average of more than $8,000 for a car.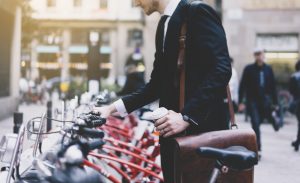 ENVIRONMENT/ECONOMY –
Cars are the number one contributor to environmental pollution. Short trips in the car are more harmful to the environment than longer ones. So switching to bicycles for those shorter trips cuts down on 3.6 pounds of pollutants per mile!
Besides air pollution, parking costs and space are exponentially less for bicycles. Ten bikes can fit in one parking space. The cost of parking is astronomically more for cars than bikes. Parking for 75 bikes can be constructed for the same price of 4 cars.
Studies have shown that cyclists stop by local businesses more frequently and spend more money there. Bicycle commuters also take 15% fewer sick days and are generally more productive at work.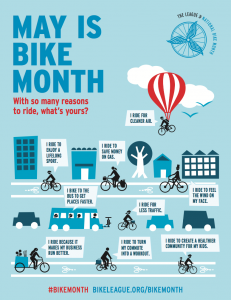 For more resources and information on National Bike Month, Bike Week, and Bike to Work Day, visit our National Wellness Calendar.