UPS puts tremendous value on the health and safety of its employees and their annual health fair is an integral part of this wellness initiative.  They are excited to announce their annual employee health fair in their Summerville, SC hub coming up on April 11th.  There are a limited number of spots but their wellness champion invites you to submit your request to participate in their event providing you the opportunity to introduce your services to this great group!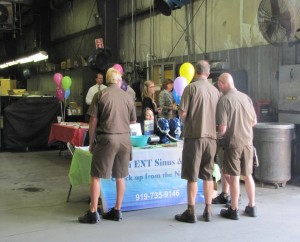 Wifi Available: No
Food Provided to Vendors: Yes
Food Provided to Employees: Yes
Can Vendors Sell Products During Health Fair? No
Table Size: 8ft
Outside Event: No

Your registration for this event will be submitted directly to the employer for review. The employer will receive an email which includes your registration details and a link to your profile. Make sure you have fully updated your profile before registering. You will be notified of the employer's decision via email.
Fees
Fee Details
• Pay the non-refundable registration fee ($7.50) at the time of registration and pay nothing more if your registration is approved
or
• It is FREE to register and participate in this Health Fair. REGISTER TODAY!• Pay nothing now and if approved, your card will be billed the above event fee ($30.00)
Approved Exhibitors Receive
• Face-to-face interaction with the full-time insured employees
• Table and chairs (see table size above)
• Linen, electricity, and extra floor space (if needed)
About The Host
Website
Go ahead, relax. UPS logistics has you covered.
Get the most out of UPS services and technology, and get more done, with less stress, when it's most convenient for you. Trust UPS reliability and insight: see your package from shipment to delivery and know you're getting great service.
How you manage your day is all about logistics–juggling errands, making vacation plans, taking care of your family. With all these personal logistics, who has time for complications?
We make it easy for you to manage some of that daily planning and organizing. With UPS shipping and tracking, get things done in a snap. Quickly set up shipments and print labels online. Drop off your package or have us pick them up for you. You'll be able to track your package progress to know when it will arrive. Even make delivery changes if you need to. And we've got a host of service options, so you can choose the fastest possible delivery or one that's most economical.
Maximize your time, and minimize your worries. Let logistics deliver for you.
Registered Providers