Down with a Dream
In October, we observe Down Syndrome Awareness Month. It's a great time to celebrate all the wonderful things that people with Down Syndrome are doing around the world. Gabrielle Angelini is just one of those inspiring examples. She's taken perceived limitations and proven that they are no match for a dream and determination. As a business owner and rising internet sensation, she's spreading her message of hope and overcoming far and wide. We're pleased to be sharing her story with you today.
A Hug In A Mug
Gabi's road to success begins like most when everything looked bleakest. After graduating from high school, she was hard-pressed to find a company that would hire her. Perhaps the most important thing to communicate this month is dispelling myths surrounding those with Down Syndrome. Employers assumed that because Gabi was different, she may be slower and less able to perform on the job.
It turns out all of that rejection was just the fuel Gabi needed to make an even bigger impact, not just in her own life, but in the lives of others. If no one else would hire her, she would create her own company and provide jobs for others in her same position. Gabi is a great example of entrepreneurship at its finest! With the help of her mom Mary, they created Gabi's Grounds Coffee Shop: A Hug in a Mug. When asked about her company's slogan, Gabi explains with a smile, "A hug in a mug, because I'm a hugger."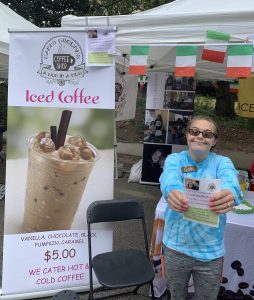 Get Gabi's Off The Ground
Gabi's Grounds was founded in 2017 with tee shirts, mugs and of course, coffee. You can find Gabi's own special coffee blend at numerous major grocery chains like Lowes Foods and Harris Teeter. Even with all this success, Gabi's dream isn't complete. She wants to open her own brick and mortar storefront for the coffee shop. You can play a part in helping her do that!
On November 3, the "Get Gabi's Off The Ground" fundraising event will be held at Plus Dueling Piano Bar in Raleigh. Tickets are available now at a special price of $35. They include dinner, live music and the chance to win some really special prizes like a trip to Disney as well as Myrtle Beach. If you're not local to the Raleigh area, visit Gabi's Grounds page on Facebook to stay up to date on Gabi's adventures and other ways you can support her and her business.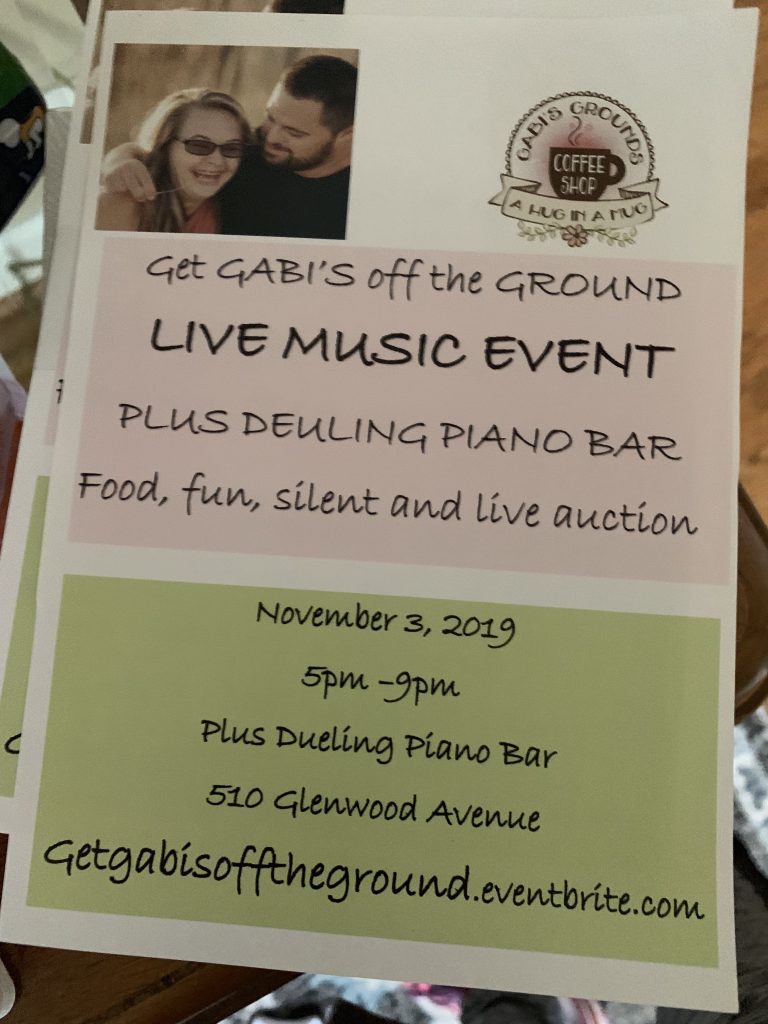 Down With Love
In addition to Gabi's business pursuits, she found love along the way with Nick. They met at a special needs conference and hit it off. While they keep up a long-distance relationship, their parents recently arranged a surprise reunion that went viral on the internet! Their sweet affection for one another is enough to bring a tear to even the driest eye.
Watch Gabi & Nick's Surprise Reunion!
Now with over 3 million hits, the video is catapulting Nick and Gabi into the eye of the public, furthering their message of hope and overcoming. They have their own Facebook page too!
You Can Too!
Gabi's ultimate message to others is that they can do it too. You can follow your dreams and achieve them if you keep on trying and never give up. Mary expresses something we all understand when she says that life is hard for all of us. But for those with special needs, it can be even more difficult. Gabi has had the opportunity to share at multiple special needs conferences and cheer her peers on! Mary has watched Gabi blossom over the last few years as her confidence has grown. In a recent interview for The List TV, Mary said this about her daughter, "She's who she's supposed to be and everybody deserves that chance."